Equipment
GazSurf LLC offers a wide range of compressor equipment for oil and gas industry, as well as consumables for periodic maintenance and overhaul.
We work with the leading world known companies-suppliers of equipment and ensure warranty for all goods and services rendered by our company.
AJAX
Integrated motor-compressors AJAX are gas compressors with integrated gas piston engine.
Reliable and compact design with gas drive makes the compressors of this model line ideal for installation and work in the field.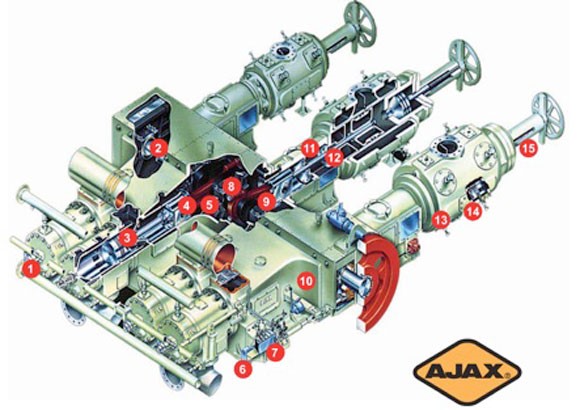 Technical characteristics:
Hydraulic fuel management system optimizes fuel consumption;
Babit hub and two row roller bearings for maximum loading in extreme terms of usage;
Two cycle, chromed motor cylinders with low value of average brake pressure;
Small number of details facilitates technical maintenance. Gas distribution mechanism is absent.
Crosshead guides take efforts from crankshaft (unload the cylinder) and prevent pollution of lubrication oil in casing.
Crankshaft casing system splash lubrication: oil pump, filter and cooler are not required for main bearings and bearings – piston rods. Crankshaft casing system splash lubrication is isolated from work process in cylinders.
Safe ignition system: semiconductor type which is constantly synchronized without interrupter;
Effective lubrication system of power motor and cylinders of compressor;
There is a supply for separate points of lubrication. Distribution block is present;
Crosshead design has babit hubs from compressor and motor sides;
Crankshaft and piston-rods are steel in closed micrometric stamps;
Crankshaft casing is a cast iron framing with finning which ensures durability;
Adapter (intermediary case): extended API II type for rod seals facilitation maintenance;
High load on rod and high working pressure in cylinder: the work with full loading through different coefficients of compression up to 6:1 per stage;
Compressor cylinder: big orifice areas for gas and big areas of valve sections for high productivity;
High-quality differential plate valves;
Adjustment of compressor cylinder dead spots: manual, hand wheel, additional extra space of volume adjustment with index allows unloading of cylinders with pressure away.
ARIEL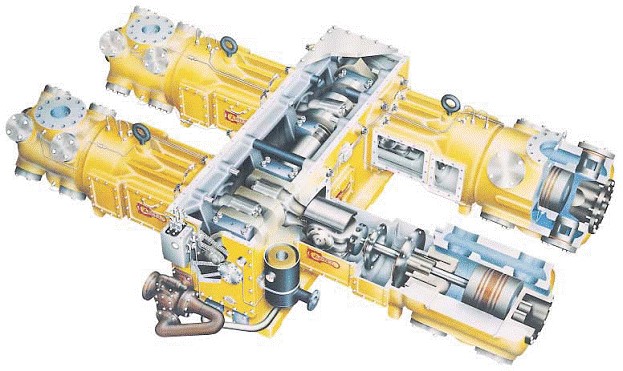 Technical characteristics of  ARIEL compressors are defined by base and cylinder selected for given conditions. The approximate productivity of one ARIEL compressor range from 10 thousand of nmЗ per day at low inlet pressure, one stage compression in the biggest models.
Piston compressor design allows usage of the most appropriate drive type for specific object: gas engine, electric engine, gas turbine or diesel.
The main areas of ARIEL compressor application:
Oil and gas extraction
Industrial collection (compression) of natural and oil-associated gas;
Gas lift;
Reverse gas injection in a place;
Underground gas storage: gas injection and gas offtake;
Transportation of gas;
Gas booster stations;
Linear compressor stations of gas pipe lines diameter up to 1000 mm;
Mobile units for pipe line release and extrusion, mobile standby units, etc.;
Fueling of transport vehicles with natural gas;
The booster of fuel gas (for gas turbines, gas diesel drives, etc.);
Gas process and petro chemistry, including compression:
–      hydrogen, Н2;
–      nitrogen, N2;
–      carbon dioxide gas, СО2;
–      gas synthesis;
–      other gases;
Air compression for drilling and seismic works, etc.;
АRIEL compressors are used for compression of gases of various composition, including corrosion active gases (H2S, СО2 etc.). The compressors can be offered in oil free option.
CIP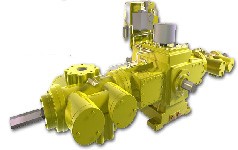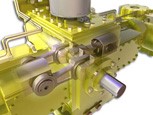 СIР compressors are manufactured in the USA. They are similar to ARIEL compressors by general arrangement and occupy a niche in the market of compressors of average and low power.
Fully balanced compressor with opposite arrangement of cylinders excludes imbalance. There is no  displacement of opposite compressor rows along axis of crankshaft, as on the other compressors.
Crankshaft shank end design ensures arrangement of additional equipment with additional drive.
Big-size valve design promotes higher volume effectivity.
Gland seals and degas chamber are meant for blowing by inactive gas when aggressive gas boosting is required.
Simple cooling system eliminates  external requirements to cooling system in order to decrease expenses on technical maintenance and make arrangement simple.
Developed, designed and constructed for various composition of natural gas at its extraction and in the industry.
Strength design and flexible arrangement are meant to meet demands of the majority of clients and simplify piping design;
The nomenclature of compressor cylinders for CIP compressors enables to select the optimal compressor unit for the work with various ranges of inlet and discharge pressure changes, as well as optimal load of the drive.
In 2016 there was a grand modernization of the factory where CIP compressors are manufactured.